We will be having this ClearView HDTV Antenna review to see whether this program is something you need and want. To start, Clear TV HDTV is an antenna that's made for indoor use, claims to provide local and clear HD broadcast TV shows like sports, movies, and news.
Sold by Tristar Products for $39.95, it's a digital indoor antenna with HD quality that lets you watch live TV broadcast from your local TV stations like ABC, CBS, Fox, etc. It offers high-definition quality TV delivered t your home without the long cables from your cable company and without high bills from them as well.
The ClearView HDTV Antenna was created by a NASA Engineer using state-of-the-art technology and military-grade equipment.
While you may enjoy the shows from your local TV stations, you will not be able to receive the superior cable channels like HBO, Discovery Channel, TBS, etc. It may sound like that you are in for a bargain, but you will be able to watch only a few TV channels.
How does the ClearView HDTV Antenna work?
Basically, it works like the classic antenna television. The only difference is that the ClearView HDTV intercepts or receives digital signals instead of analog, showing better picture quality. Simply put, it is the modern version of the rabbit ears antenna.
When your local TV station broadcast a show, it is usually broken down into pieces, then sent from the broadcast tower through the air, picked up by your antenna, put them back together, and you are now shown the complete picture on your TV.
ClearView HDTV Antenna uses a built-in dual-band frequency offering VHF range of 47-230 MHz an UHF range of 470-662 MHz. It is capable of displaying full 1080 in HD and it can be installed anywhere in the U.S. with an operating radius of 80.4 km. It also comes with a booster and an amplifier. It works with all digital TVs and backward compatible with all analog TVs as well.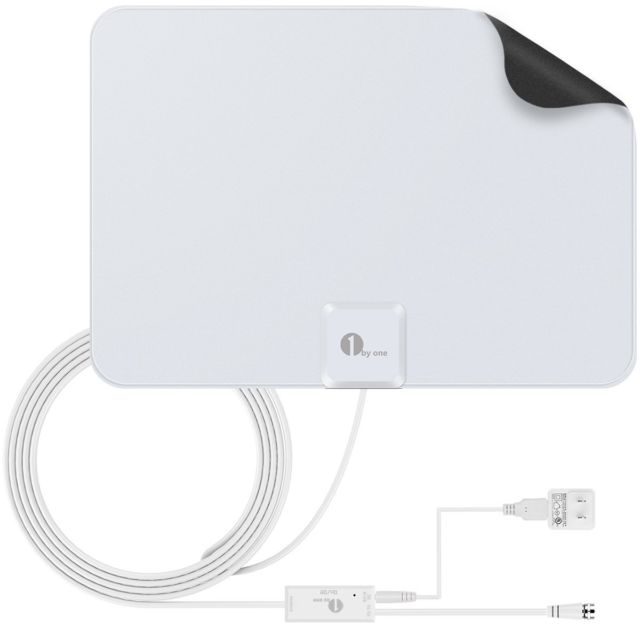 Hassle-free to install, no need to call a technician or no need for special tools or equipment. All you need to do is decide where to put it, and the adhesive tape that the package includes. Although it is backward compatible with analog TVs, you will need a digital converter box to convert analog signals to digital signals and be able to handle HD signals.
In case you are not satisfied with the performance of the ClearView HDTV Antenna, they offer a 90-day money-back guarantee. You can do this by sending the product back to where it came from, notify the support team and you'll get your money back.
They have a standby Customer Service Team to receive any of your concerns. You may reach them at their toll-free number 1(833) 394-7015. You can also email them at [email protected] for questions, comments, and suggestions about ClearView HDTV Antenna.
In the event that you are located where the signal is weak, you can always use the detachable amplifier and booster to be able to receive even weak signals. And in fairly good reception areas, there is no need to use these add-ons. The ClearView HDTV Antenna has a slim design that way you can place it anywhere in the house without getting in the way. You will not even notice that it is there when it's installed well.
Feedback about reception and signal
Technology has its downsides as well and it can never be 100 percent effective all the time. However, based on different customer feedback and ClearView HDTV Antenna reviews, it works like magic. Most customers claim that they did not experience any mishap during their first 60-day usage. How cool is that?
The ClearView HDTV Antenna is retailed for $80.00. However, if you purchase it now, they're offering a discount of almost 50% which means that you can get it for just $39.95 + Handling and Shipping.
Here are some of the free channels you will get when you install ClearView HDTV Antenna:
Favorite TV Shows

ABC
CBS
Fox
NBC
PBS
Live Sports
GOLF
MLB
NASCAR
NBA
NFL
NHL
Tennis
Local News and Weather
Up to 110+ HD Channels
I'm interested… How can I purchase the ClearView HDTV Antenna?
You won't be able to purchase it in a mall or in physical stores. For you to buy, you need to go to their official website https://buyclearviewantenna.com. Click on "Yes, I want 50% so you can avail of the 50% discount." And follow these steps:
Step 1
Select Order Quantity
1 ClearView HDTV Antenna for $39.95
2 ClearView HDTV Antenna for $34.95
3 ClearView HDTV Antenna for $33.33
4 ClearView HDTV Antenna for $32.50
Step 2
Fill out the Customer Information.
Step 3
Complete the shipping information.
Step 4
Complete the Credit Card information.
Step 5
Finish the order form by clicking the Yes! Send Me My ClearView HDTV Antenna button.
You're set. Just sit back, wait for a couple of days and you will soon be watching free TV with your ClearView HDTV Antenna.
Final verdict
While it is tempting to watch free HDTV using the ClearView HDTV Antenna, one has to consider the terrain or location of the address. Even though is it advertised with a 50-mile radius, it does not discuss the different factors that affect the signal reception.
We have to consider that we will be receiving over-the-air signals, that is of course impacted if you live in hilly or mountainous terrain. Much more if you live in a valley surrounded by mountains. It is also worth mentioning what happens when it rains, will it affect the reception when you live in an area that always rains.
Please do not forget that you rely on the over-the-air signals, meaning, signals could be great one direction and less in another. Just to set the expectations, you will definitely have less number of channels compared with cable TVs. Cable premium channels are not offered free, thus, you will not able to watch them using the ClearView HDTV Antenna.
But according to different ClearView HDTV Antenna reviews from customers, even if the signal is over-the-air, the antenna did not cause them a headache. As a matter of fact, the quality is crystal clear and that they're willing to purchase more. There are some comments that concern the number of channels, and the handling and shipping fee being free –I'm pretty sure that the company is onto that.